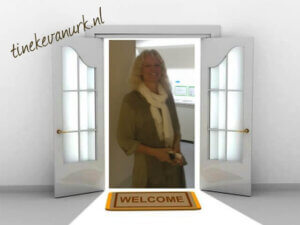 Ik werk vanuit meerdere locaties. Omdat ik per gelegenheid ruimte huur, of naar klanten toe ga, ben ik flexibel qua locatie. Indien activiteiten plaats vinden op één van mijn eigen locaties, of een door mij geregelde locatie, is het tarief inclusief. In alle andere gevallen moet je rekening houden met extra reistoeslag. Hierover wordt je vooraf geïnformeerd. Zie ook de tarievenpagina.
Groepsactiviteiten op uitnodiging zijn in een ruimere regio mogelijk. Hierover kan je contact opnemen.
Mijn adres is Raiffeisenstrasse 15 49842 te Ringe. Dit dorpje ligt een paar autominuten over de grens bij Coevorden, Schoonebeek en Hardenberg in Duitsland.
Kom je met het OV, dan ga je met de trein naar Coevorden. Ik kan je ophalen van het station of je neemt de bus naar Ringe. De bushalte is hier 100 meter vandaan. Je kunt via 9292.nl je OV-route plannen.